Andrew Kuykendall, MD
Assistant Professor
Moffitt Cancer Center
Department of Malignant Hematology
Morsani College of Medicine
Tampa, Florida

Dr. Andrew Kuykendall obtained his medical degree from the University of Florida College of Medicine. He completed an Internal Medicine residency at the University of South Florida and a subsequent Hematology and Medical Oncology fellowship at Moffitt Cancer Center/University of South Florida. Dr. Kuykendall is an Assistant Professor at Moffitt Cancer Center in the Department of Malignant Hematology in Tampa, Florida.
Dr. Kuykendall primarily focuses his clinical and research efforts on myeloproliferative neoplasms (MPNs), MDS/MPN overlap syndromes and systemic mastocytosis (SM) where he is dedicated to developing novel, disease-modifying therapies for these rare diseases. He is the primary investigator of numerous clinical trials and an active member of the MPN-Research Consortium – a collaborative effort aimed at improving therapeutic options for MPN patients by rationally and efficiently developing disease-modifying therapies.
Last modified: December 2, 2022
Authored Items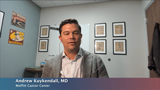 How would you define treatment success for your patients with myelofibrosis?
FAQ
published on
November 30, 2022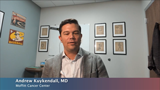 Can we predict which patients will respond to a JAK inhibitor?
FAQ
published on
November 25, 2022