Patient Journey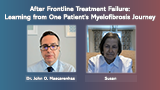 In this detailed discussion, Dr. John Mascarenhas and his patient explore her journey through myelofibrosis treatment failure, clinical trials and the importance of patient education and involvement.

Provided by The University of Texas MD Anderson Cancer Center and MediCom Worldwide, Inc.
This activity is supported by educational grants from Bristol Myers Squibb, CTI BioPharma Corp. and Sierra Oncology.